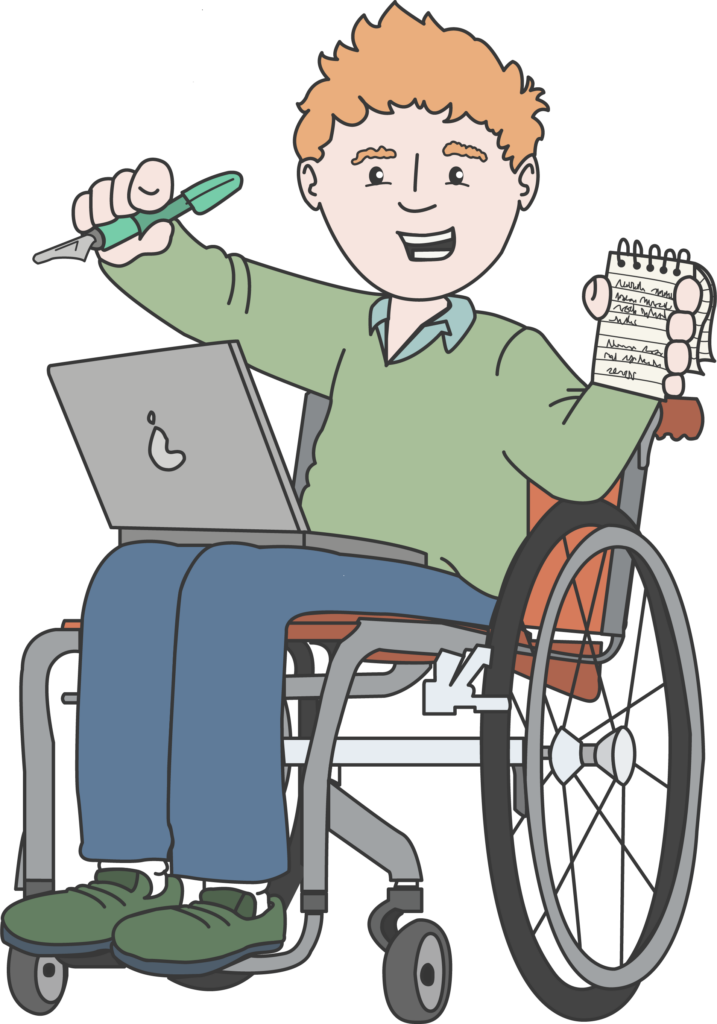 What does this look like across the school?
Reading is at the heart of the curriculum. In EYFS and Year 1, considerable time is given over to the teaching of systematic synthetic phonics through whole-class direct teaching; small group guided sessions and a wide variety of spoken language and play activities. We are well resourced with a wide range of engaging, fully decodable phonics sets to ensure that children practise their reading from books that match their current phonics knowledge. We also offer a wide range of 'enrichment' books, for example wordless picture books, to add further interest and variety to the child's reading experience, in school and at home.
As children progress through the school, teacher assessment informs a carefully planned program of whole-class direct teaching; guided group sessions and intensive 1:1 interventions, such as Reading Recovery and BRP.
In KS2, teachers assess the specific reading needs of their class when planning lessons and use their professional judgement and assessment data to make decisions as to whether whole-class, smaller guided group reading sessions or a mixture of the two are most appropriate. All children have a Guided Reading book in which to record activities. Teachers prepare questions from the five NC reading domains using the mnemonic 'VIPERS' to ensure we are targeting all key comprehension reading skills:
V ocabulary
I inference
P predict
E explain
R retrieve
S summarise or sequence
'VIPERS' tips, within Reading Logs, and images are used to prompt questioning from teachers, parents and other adults who read with our children. In upper KS2, children working at greater depth become skilled in extending their inference skills using PEE (make a point, provide evidence from the text and explain further).
Teachers use assessment data to target specific weaknesses in reading skills eg 'inference' or 'sequence'. These skills are then taught via planned tasks and direct questioning.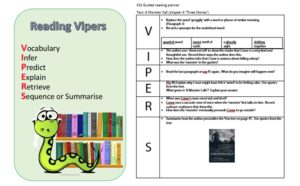 Our reading intent document outlines in greater detail our approach to teaching reading and what a visitor may expect to see in a reading lesson at Nova:
Reading Through the 'Book Bands'
Enjoy Reading with your child and help them become lifelong readers.
There are general guidelines about which book bands should be covered in each year group. Children working at the average level for their age should be reading books of those colour book bands. However, please remember that children learn in different ways and make progress at different times. It is possible that there may be seven year olds on book band red and five year olds on book band turquoise.
As a rough guide, children are expected to reach the highest level (black) by the time they leave Year 6. The books will vary in a number of ways, including layout, size, vocabulary and length, to give the children a rich diet of literature.
The difference between each colour band is very small, so that children do not experience great difficulty moving up through the bands. Progress through the bands is not automatic and it is important to ensure that children working in the early bands have secure understanding so that they keep motivated as they move on to more challenging texts. (This is particularly important for children at the early stages of learning English as an additional language).
This guidance can only give a rough idea of the right reading level for your child. There will be a wide range of reading abilities in any year group or class. As a rough guide, children should be able to read at least 90% of the words on the page without any problem. If the book is too easy, they can become bored. If it's too difficult, they can become frustrated, and may have to concentrate so hard on reading the words that they lose the enjoyment of understanding the story.
A Word of Caution!
You will be doing your child no favours if you rush them through books. It is not a race, it is a journey! Children learn at different rates just as they learn to walk, dress themselves etc. at different rates. Reading must not be treated as a competition. If children are rushed through the books they will not achieve the enjoyment and understanding necessary. Books that they find too difficult will put them off reading!
Things to Remember
• Do read with your child every day – little and often is more beneficial than a long session once a week.
• Think about how long you are reading for – the amount of reading time shouldn't exceed your child's span of attention.
• Pick your timing carefully – it's best not to embark on a reading session when your child is tired.
• Every child is an individual – try not to compare your child's progress with other children or with brothers and sisters.
Book Bands and Reading Recovery Levels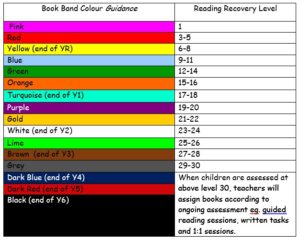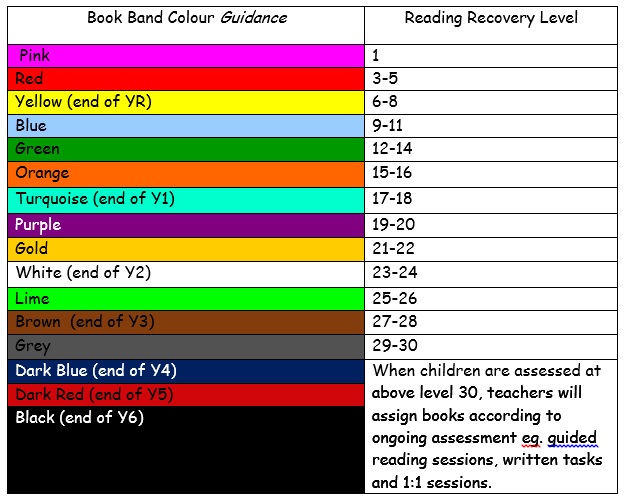 Take 10 Reading Challenge
Staff at Nova Primary are always looking for ways in which we can engage families with their child's education. This year, we have launched our Nova Primary 'Take 10 Reading Challenge' in a bid to support our young readers across the school. Each child was issued with a 'Family Reading Record' in September. If you look inside the front cover, you will find a box for you and your child to sign up and pledge to read for at least ten minutes every day. Try to find a quiet spot where you can share the reading. At times, you may feel your child reads fluently and doesn't need support, so ask some questions to check their understanding (use the VIPERS reading question stems in your record and ask your child to ask you some too!)
Every week, teachers check reading records and nominate children who are engaging with our 'Take 10 Challenge' for inclusion in a termly raffle. Two children receive a National Book Token for £10.
Follow this link to view the KS1 My Reading Record
Follow this link to view KS2 My Reading Record
Children at Nova Primary School love English lessons! Reading and writing are taught from the moment children enter our Foundation Stage classes; (Wallace and Gromit) where they enjoy listening to and looking at books, talking to each other and begin to recognise and write letters and sounds.
We follow The National Curriculum 2014. The statutory requirements for English are listed here, year by year.
English from the National Curriculum
Leadership:
Alison Young is our Reading Recovery Teacher and Dympna Leonard is our Lead Author, who you can speak to to find out more about how we teach Early Reading and Reading at Nova.
Our priorities for this year: Increase progress in reading and writing for all
•- Nova reading and writing practices are consistently well-taught and resourced, including Talk4Writing and phonics, to raise achievement and ensure gaps from COVID are closed.
•Pupils are enthused readers and writers (in all areas of the curriculum) who are aware of their strengths and weaknesses, regardless of their level of need.
•English leadership is exceptionally impactful, driven by effective monitoring of learning and outcomes.
•Pupils in Early Years grasp basic skills swiftly and there is a huge emphasis on language and communication across the curriculum