We are delighted to be providing our own After School Club which will resume on Monday 15th March.
The club will run Monday to Friday from 3.15pm – 5.00pm. Whilst we still have staggered finish times provision will be in place for the year groups that finish before 3.15pm.
Our club will be run by Miss Jen Giltrow who has been working at the club since November. For the rest of term 4 she will be joined by one of our Teaching Assistants, Miss Freya Gundry and one of our SMSAs Mrs Sally Hale. The activities planned for term 4 are below.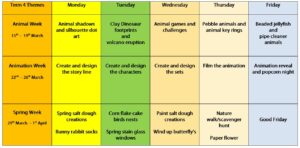 The cost of the club will be £6.50 per session and term 4 is now available for you to book online. Please note that only children who have booked into after school club can attend. Please see details below on how to book and pay for places at the club. Please also make yourself aware of our cancellation policy. In order to maintain Covid-19 guidelines we will have to limit the number of children who can attend per Key Stage at this time but hope to be able to increase this once the restrictions are lifted.
We are very much looking forward to the club resuming from 15th March and providing the wrap around care for your children.
Booking Procedure
To enrol for Nova's After School Club, please complete and return a registration form which can be obtained from the School Office.
Bookings can be made using the same link as we use for parent's evenings and breakfast club:
https://nova.schoolcloud.co.uk/
Alternatively, if you require a space at short notice, please call the office and we will be able to book you in, subject to availability.
As spaces are limited, you must book in advance and we ask that you notify us by 3pm if your child is not able to attend that day, although refunds will only be given if we receive 2 working days' notice of cancellation.
Payment MUST be made in advance using school gateway which is the same link as for dinner money and trip payments:
https://login.schoolgateway.com/0/auth/register
The cost is £6.50 per session.