We are delighted to be providing our own After School Club.
The club will run Monday to Friday from 3.15pm – 5.00pm.
Our club will be run by Mrs Becky Harris on a Monday & Tuesday and Miss Becky McSmythurs on a Wednesday, Thursday and Friday.  On a Monday and Tuesday Miss McSmythurs will support Mrs Harris and on a Thursday and Friday Mrs Sally Hale will support Mrs Harris.  The activities planned for term 1 are below.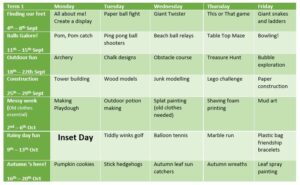 The cost of the club will be £8.00 per session and term 1 is available for you to book online.
Booking Procedure
To enrol for Nova's After School Club, please complete and return a registration form which can be obtained from the School Office.
To book go to the school gateway:  https://login.schoolgateway.com/0/auth/register
Click on the Nova After School Club tab, select the dates wanted and click on 'book selected sessions'.
Then you just need to add the item to your basket and pay.
Alternatively, if you require a space at short notice, please call the office and we will be able to book you in, subject to availability.
As spaces are limited, you must book in advance and we ask that you notify us by 3pm if your child is not able to attend that day, although refunds will only be given if we receive 2 working days' notice of cancellation.