Term and holiday dates for the 2020-21 school year (starting September 2020):
Term 1 – Tuesday 1st September to Friday 23rd October 2020
Term 2 – Monday 2nd November to Friday 18th December 2020
Term 3 – Monday 4th January to Friday 12th February 2021
Term 4 – Monday 22nd February to Thursday 1st April 2021
Term 5 – Monday 19th April to Friday 28th May 2021
Term 6 – Monday 7th June to Wednesday 21st July 2021
2020-2021 Inset Days
There will be 5 Inset Days for 2019-20 which are as follows:
Day 1 – Tuesday 1st September 2020
Day 2 – Wednesday 2nd September 2020
Day 3 – Friday 2nd October 2020
Day 4 – Monday 4th January 2021
Day 5 – Monday 19th April 2021
Day 6 – Friday 2nd July 2021
Day 7 – Wednesday 21st July 2021
Our School Day
Our classroom doors open at 8.35am for children to go into class to begin Early Morning Work.
School begins at 8.45am and finishes at 3.15pm. We are committed to developing punctuality as an essential life skill. If children arrive after 9:00am they will be marked in the register as unauthorised absence.
Please note that due to Covid-19 we currently have staggered start and finish times in place.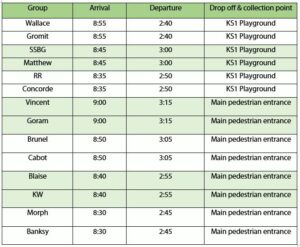 Holidays During Term Time
New Government regulations came into force in September 2013. Schools are unable to authorise any holidays taken during term time. If there are 'exceptional circumstances' the Governors and Head will agree the number of days leave but a meeting must take place and it must be 'exceptional circumstances'. Term time holidays will be unauthorised and may include penalty notices of £60 per child (£60 if paid within 21 days and £120 if paid within 28 days).